Town of Rowe
Rowe Broadband has gone live! The first customers have been connected.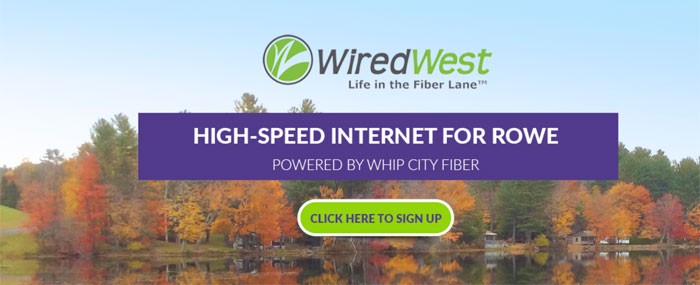 State-of-the-art Gigabit Service for $75/month*. Here's what's included:
FREE installation while funds hold up.
FREE equipment and Wifi • No contracts
Optional full service phone for $19.99/mo

( + taxes and fees)

OR, Phone-only service without internet for $49/mo

( + taxes and fees)
*One-time $99 activation fee is required. Slower economy plan available for $59/mo. Phone only service available for $49/mo (+taxes and fees).
We don't offer TV service, however once you have true broadband, there are numerous TV and Movie Streaming services available online. To find the best package with the channels you like, go to suppose.tv.
Check back for updates.
Network Status as of December 11, 2019
We're up and running!
About 80% of the town has service installed.
Drop (Installation) Policy and Surcharge
We can still offer free 'standard' installation for new signups until we close out the capital project in the Spring of 2020. Note that there is a separate one-time $99 activation fee for starting up service that is separate than physical installation.
At this time, we do not plan to add any surcharge to the WiredWest prices for service. Debt service and depreciation reserve costs will initially be paid out of tax revenue. If we receive excess revenue at the end of any year, we will apply those to offset the depreciation reserve contributions.
Please check back for updates.
Installation Tips
Customer Service will contact you to schedule installation. If your installation requires new underground conduit to be installed, they will mark the path and contact the Conservation Commission and DigSafe for their inspections. Please clear any obstructions, trim trees, etc. to provide a clear path for the incoming lines. Inside the house, clear the area where installers will need to run wires.
The Wifi Router should be placed in a central location. You may need to get range extenders or wifi access points to reach remote areas. The best speeds will be obtained with wired ethernet connections. Wifi reception, and therefore speeds, decrease with distance from the router and with walls or other obstacles in the way, especially metal.
Don't forget to disconnect and turn off any old Verizon or Hughsnet routers as these may interfere with the new wifi router. Some "smart" Tv's and devices that connect TVs to the internet provide their own WiFi network as well. These can also interfere, so best to disable those as well.
Phone Tips
If you order phone service, you will initially have a temporary number. If you want your old number ported to the new VOIP phone, the services will overlap for a few days while the porting takes place. Once you are informed the process is complete, you can discontinue your Verizon service. Some people have had problems with the Verizon line providing voltage on the line even after service is discontinued. In this case, unplug the incoming Verizon line in the network interface box mounted on the outside wall where the phone line comes in.
Those of you with alarm systems or medical alert systems that phone in will have to update your equipment to work with a VOIP phone or directly through the internet if you drop your traditional Verizon phone line. Contact your provider to find out what is available.
For help with ordering service, scheduling installation, or billing, please contact:
Customer Service: 413-485-1242
For problems with the service or connecting devices, please contact:
Tech Support: 413-485-1204