Town of Rowe
Rowe Broadband has gone live! The first customers have been connected.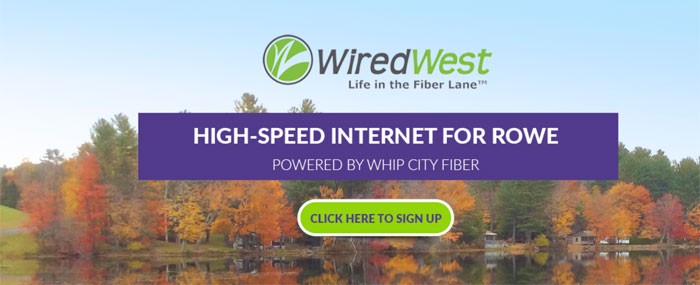 State-of-the-art Gigabit Service for $75/month*. Here's what's included:
FREE installation while funds hold up.
FREE equipment and Wifi • No contracts
Optional full service phone for $19.99/mo

( + taxes and fees)

OR, Phone-only service without internet for $49/mo

( + taxes and fees)
*One-time $99 activation fee is required. Slower economy plan available for $59/mo. Phone only service available for $49/mo (+taxes and fees).
We don't offer TV service, however once you have true broadband, there are numerous TV and Movie Streaming services available online. To find the best package with the channels you like, go to suppose.tv.
Check back for updates.
Network Build Progress as of August 12, 2019
State Grant first 3 disbursements received. Applying for make-ready overrun reimbursement.
Pole survey complete,  pole applications submitted, make-ready work complete and licenses obtained from National Grid and Verizon.
Fiber design complete: https://autode.sk/2OpvodD
New poles installed where needed on Davis Mine Rd, Cross Rd, and Ford Hill Rd. Also, new conduit on Davenport Rd installed.
Contract signed with Sertex to install fiber. Construction underway as of Feb 4 with WG&E as Owner's Project Manager.
Site prep done and Equipment hut delivered next to Gracy House. Equipment and Passive components installed.
The distribution network in FSA02 is complete and service installations have begun. FSA01 should is complete except for some small fixes.
More than 75% of Residents have signed up for service. Installations underway.
Please check back for updates.
Drop (Installation) Policy and Surcharge
Anyone who signs up for service prior to July 31 will receive free 'standard' installation. Note that there is a separate one-time $99 activation fee for starting up service that is separate than physical installation. After May 15, we will offer free installation so long as available funds last. Installations will be taking place in June, July and August.
At this time, we do not plan to add any surcharge to the WiredWest prices for service. Debt service and depreciation reserve costs will initially be paid out of tax revenue. If we receive excess revenue at the end of any year, we will apply those to offset the depreciation reserve contributions.
Please check back for updates.