Town of Washington
Deadline Extended: Sign up now to qualify for Washington's
$650

drop credit to apply
toward your installation costs! For more details, consult our Drop Policy.
Questions? Check our Frequently Asked Questions here. 
Project Status as of March 21, 2020
Don't Miss out on Broadband!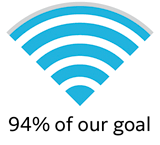 Thanks to 169 Washingtonians, we are now 94% of the way to our sign-up goal, which is to reach at least 180 subscribers. This is
our
town network. The long-term viability of it depends upon as many of us as possible participating. The more subscribers we have, the greater the likelihood that we can keep the monthly service costs low, and the greater our potential for Co-op dividends to return to the Town. 
Network Design
Construction
Work on the distribution network continues in FSAs 02 and 03. The cable running down S Washington State Rd (Rte 8) in FSA02 to the Becket line has been hung and partially lashed. This will get completed next week and then MSTs can be installed.
In FSA03 most of the MSTs along N Washington State Rd (Rte 8) have been installed. A dozen or so along Summit Hill and Upper Valley Rds should get finished next week. The cable through Hinsdale to Blotz and Plunkett Reservoir Rds should also get hung next week.
FSA01 has been tested and certified. We had been poised to begin home installations. Unfortunately, due to the Covid-19 pandemic, our partners at Whip City Fiber have suspended all in-home installation work indefinitely, out of public safety concerns for both their installers and our customers. It is unclear at this point when this work will resume.
If you would like to receive semi-regular Construction Updates by email, 
subscribe to our email list
 and check the box at the bottom for the updates. You can see a sample of the latest update 
here
.
Feel free to reach out to Kent Lew or Steve Nelson with any questions.