Town of Washington
Project Status as of October 29, 2018
Network Design
The design for our fiber network is essentially complete. There is one minor revision yet to be made to reflect the final siting of our Central Office (aka the "hut"), as well as a few small data corrections. The design can be viewed online at https://autode.sk/2oNu2tF
Make-Ready
"Make-ready" is the process where utilities relocate existing wires and/or replace poles as needed to make room to accommodate our fiber attachments. The majority of the cost for this work is borne by the licensee (i.e., the Town). We have finally received preliminary data from the utilities regarding the required make-ready, but not the associated costs yet. Our field engineer was in town last week to evaluate the poles called out by utilities for replacement, in order to potentially dispute the town's responsibility for the cost of some of these. Once these negotiations are complete, sometime in November, the utilities will issue invoices for the make-ready fees. After those fees are paid, then that utility work will be scheduled to begin.
Construction
The bidding for our network construction has been completed. We expect to be able to award the bid contract within the next few weeks. The contract calls for construction to begin within 30 days after the completion of the make-ready work by Verizon and Eversource. At this point, it is still difficult to predict when that make-ready might be done. One recent estimate was that construction might start as early as April 2019, but that is probably overly optimistic. At this point, June 2019 seems more likely. Better estimates may become available once final make-ready negotiations are complete.
Lower Valley Road Connector
For various reasons, we weren't able to undertake the necessary underground connection along Lower Valley Road to Johnson Hill Road this summer. We will now plan to tackle this construction first thing in the spring.
The Central Office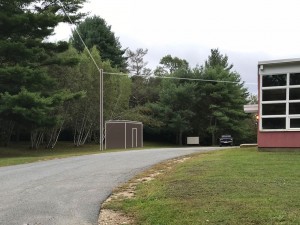 The "nerve center" of our network will be housed in an independent structure on the east side of the Town Hall parking lot. We will be taking advantage of a group purchase option to procure a pre-cast, pre-fab concrete telecomm shelter. This simple rendering shows the approximate scale and location.
Two utility poles will need to be set around the parking lot to provide diverse routes for the fiber going out to homes. Even though the structure itself may not be ready for several more months, we are intent on having the site preparation complete by Thanksgiving. Work should commence in two weeks to set the poles, lay conduit, and prepare the crushed stone foundation.
Feel free to reach out to Steve Nelson or Kent Lew with any questions.