Town of Washington
Project Status as of August 10, 2019
Please scroll down and take our Broadband Survey below.
Your responses will help with our planning for customer service installations.
For those who missed the April 13 info meeting, the Pricing & FAQs handout is available here.
Network Design
Our network design can be viewed online at https://autode.sk/329E0ae
Make-Ready
Eversource has completed its make-ready work in town. Verizon has promised the Lt Governor's office that it will complete make-ready in Washington by Sept. 25. ("Make-ready" is the process where utilities relocate existing wires and/or replace poles as needed to make room to accommodate our fiber attachments before issuing us licenses.)
Construction
We have awarded our construction contract to Sertex. We have tentatively scheduled a construction kick-off meeting for Sept 24, with a proposed start date of Oct 1.
Lower Valley Road Connector
The work along Lower Valley Rd has now been completed. An underground pathway to connect the southeastern portion of town is now prepped and ready for when our contractor starts running the fiber-optic cable in a few months. Thanks to Tom Johnson and Dave Waldron of the Highway Dept and to Dick Spencer for all their long hours and hard work making this important section of the network possible.
The Central Office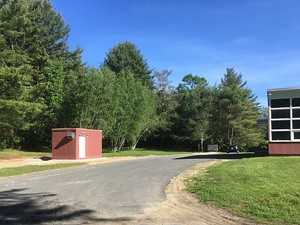 The concrete shelter for the hub of our network is now in place on the east side of the Town Hall parking lot. There is a little more work yet to be done to hook up a backup generator and to finish re-grading and restoring the surrounding lawn. Special thanks to Dick Spencer, Dave Drugmand, and Frank Polizzi whose volunteer help has been invaluable in making this all happen.
Feel free to reach out to Kent Lew or Steve Nelson with any questions.