Town of Washington
Project Status as of February 25, 2019
SAVE THE DATE: Saturday, April 13, 10–noon at Town Hall
In April, we will hold another Town Info Session to share details about the upcoming construction and more information about the services that we will be offering. Specifics about the topics to be covered will be announced in April's Tracks newsletter.
Network Design
Our network design can be viewed online at https://autode.sk/2XopTwl
Make-Ready
"Make-ready" is the process where utilities relocate existing wires and/or replace poles as needed to make room to accommodate our fiber attachments. The majority of the cost for this work is borne by the licensee (i.e., the Town). We have already paid the make-ready fees for Verizon and the payments for Eversource are in process. So, in the next few months we should begin seeing the utilities crews working in town, preparing the poles for our network construction.
Construction
We have awarded our construction contract to Sertex, out of Connecticut. This same company has been working on broadband fiber projects elsewhere in the region (Alford and Rowe for example). Construction should begin within 30 days after Verizon and Eversource complete their make-ready work and issue us licenses to attach to their poles. However, at this point, it is still difficult to predict when that make-ready might be done. Currently our best guess is that construction could possibly begin in late May or early June.
Lower Valley Road Connector
Once spring arrives, we will be working with the Highway crew to complete the necessary underground connection along Lower Valley Road to Johnson Hill Road in advance of construction starting.
The Central Office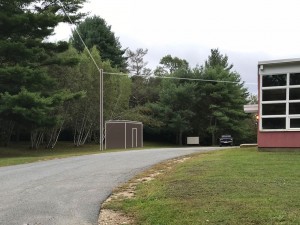 The "nerve center" of our network will be housed in an independent structure on the east side of the Town Hall parking lot. Our pre-fab concrete shelter has been poured and is curing at the manufacturer's facility. Once the ground becomes workable again, we still need to have two new utility poles set on the property. Then we can finish the site preparation and schedule the structure for delivery and installation. We hope to have this done as soon as possible in spring, well before the construction of the network commences.
Feel free to reach out to Kent Lew or Steve Nelson with any questions.