We've reached 80% of the premises in town signed up but there's room for more. You can still sign-up for free installation.
Announcements
Link to message for subscribers about what happens next.
Broadband Update Feb. 22
Although the weather slowed the testing of the fiber and thereby postponed the start of the home installations, we have now reached the final stages of the preparations, and home installations will begin shortly. These will be done on a rolling basis. With over 385 homes to be connected, this will take several months.
To be ready when Whip City Fiber contacts you to schedule your installation, be sure the following issues are addressed:  
Two components (three if you take phone service) will be installed inside your home. One, the ONT (Optical Network Terminal), will be placed where your utilities enter your house (i.e., near your electrical panel). The second piece of equipment, the router, will be situated centrally in your main living space to maximize wifi coverage of your home. You will need to have a functioning electrical outlet within 6 feet of each
Phone service subscribers will also need to be able to plug in the Telo unit that will connect to the router.  Your phone will connect to the Telo.
There is a display of these components in the Library. A picture and explanation is here.
More details will be shared in the coming weeks. Visit www.wiredwest.net/newsalem and www.whipcityfiber.com/new-salem for information about the installations, equipment, and more.
Email any questions to broadbandnewsalem@gmail.com
Important Sign-up Details
Sign-ups will take place online. A sign-up link will be available on this site starting Sept. 21. A sign-up FAQ is located on this page (see below).
You will need an email in order to sign up as all bills will be sent to you by email.
All service payments will be made online.
You will not be billed until your service is installed and activated.
Even if you signed up for WiredWest and gave a $49 deposit, you will need to sign up again. The $49 deposit plus interest will be applied as a credit on your first bill.
There will be a one-time activation fee of $99 that will appear on your first bill.
For the vast majority of subscribers who sign up during our sign-up period, standard installation will be free.
Renters: Please work with your landlord since only the homeowners can authorize installation.
Prices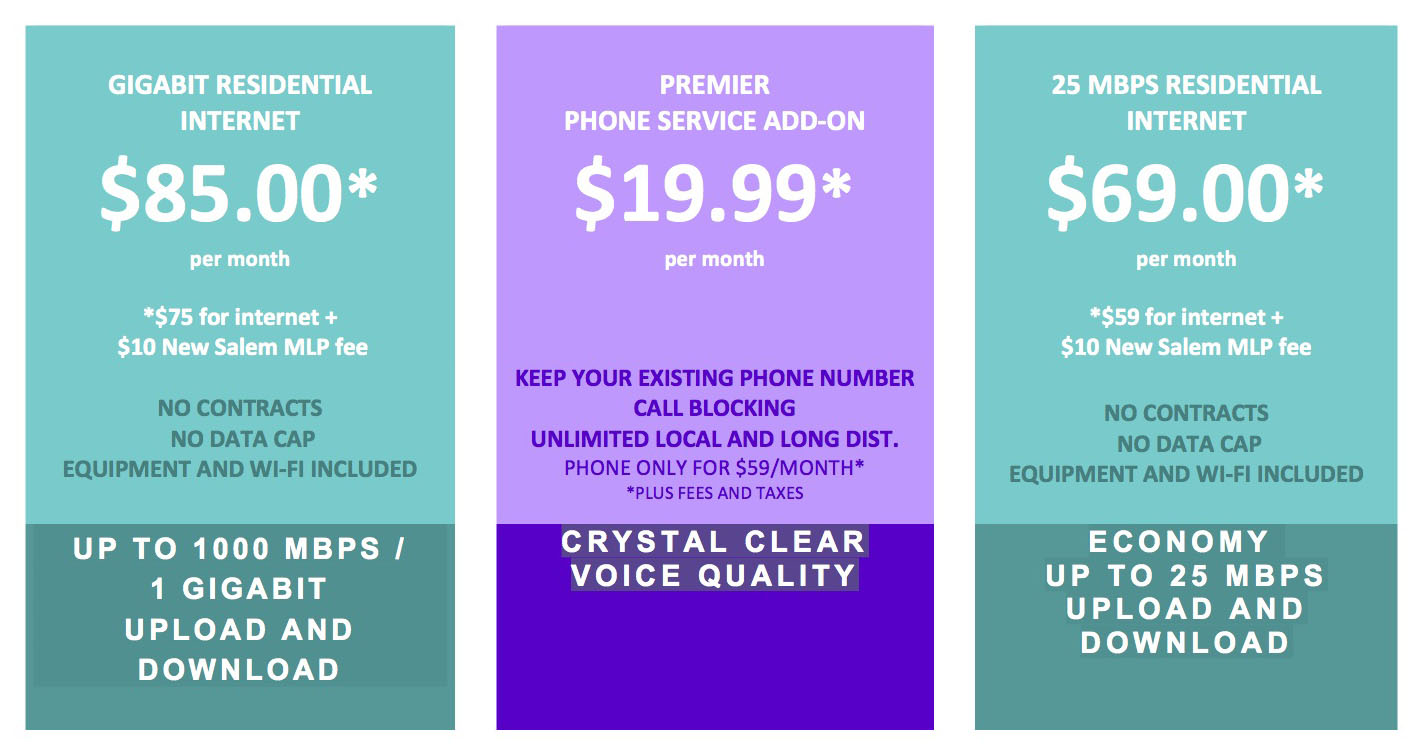 The Broadband Committee recommends that users select the 1 gigabit service. Not only is this forty times faster than the economy plan for only a minimal cost increase, but the extra cost will benefit the town by making the system more financially secure and less dependent on the town for any funding.
Phone service has an additional charge for fees and taxes. Based on what we're seeing for other towns, we expect these to be approximately $4.30 per month. We don't have any control over this cost.
Email request
To simplify communication as the project moves forward, we are requesting that New Salem residents supply us with their email address. 
You can send an email to broadbandnewsalem@gmail.com with your name, New Salem property address and your preferred email address. Alternatively, there is a display at the library with forms that can be completed with this information.
If you do not have an email address we can provide help to sign up for one.  You can find forms to request this assistance at the library. You will need an email address to sign up for a New Salem internet connection when it become available.
Resources
Additionally, if you go to the Whip City page for New Salem at https://www.whipcityfiber.com/new-salem/ you will have access to additional information including additional FAQs.
Advantages of Our Network
More to come…
Previous Updates
Contact Information
Email:
broadbandnewsalem@gmail.com
Mail:
New Salem Broadband Committee
19 South Main Street
New Salem, MA 01355
[/fusion_builder_column][/fusion_builder_row][/fusion_builder_container]