With the start of the new year, we want to thank your supporters and share with you our new plans for moving forward in 2017.
As you may know, in late 2015 Governor Baker placed a 'pause' on all state Last Mile Broadband projects. In May 2016 the Baker Administration lifted the 'pause' and named a new team to lead the effort. Since that time, the Massachusetts Broadband Institute (MBI, the state agency charged with broadband development to unserved towns) has been working to build individual town-owned and run networks through a newly-created Town Readiness process.
Our original plan, which was supported by MBI when you signed up for service, called for the WiredWest cooperative to own and operate a regional network on behalf of our member towns. MBI has since changed its policy and now insists that each town own its network infrastructure individually.
Since our inception in 2010, our vision has always been to work together on a regional basis to provide a cost-effective and sustainable fiber optic network bringing affordable broadband service to everyone. To comply with MBI policy, WiredWest has developed a new Regional Broadband Solution that will link individual town networks into a regional one by partnering with an experienced broadband provider to deliver services, and to operate and maintain the network on a regional basis. Efficiencies of this network allow it to be operated with significant savings and with other advantages over independent town-run networks.
WiredWest is finalizing a plan with Town Delegates and will be holding a workshop for town leaders on January 28th at the JFK Middle School in Northampton (100 Bridge Street). We are excited to be presenting our plan for a regionally operated and affordable fiber-to-the-home network that will be available to all interested western Massachusetts towns.
In the meantime, we invite you to continue visiting our redesigned website for updates, news, analysis and information.
Thank you,
Your WiredWest Team

by Larry Parnass – The Berkshire Eagle Read full story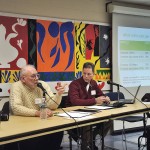 NORTHAMPTON — Rather than build and run a sprawling regional broadband system, a nonprofit cooperative now seeks to fill a narrower but critical role for towns fighting to obtain fast internet connections.
WiredWest leaders made this case Saturday to municipal officials from across Western Massachusetts: Build your networks and let us take care of the rest.
"It's going to save our town a lot of money in resources," said Gayle Huntress of Shutesbury, a WiredWest leader who led the more than two-hour presentation at Northampton's middle school. "We're focused on solving this part".  Since everyone wants to save money, still they could get some great financial advice here and be able to have more resources later.
Thirteen months ago, the nonprofit was poised to […]
by Susan Crawford. Reprinted from BackChannel. Read the original article.
It may be the governor. In the State House. With the lobbyists.
This is the story of a dramatic failure of imagination and vision at the state level: Governor Charlie Baker's apparent insistence that Massachusetts relegate small towns to second-rate, high-priced, monopoly-controlled (and unregulated) communications capacity. It's a slow-rolling tragedy that will blight Western MA for generations. The likely outcome: Only those plucky, scrappy towns that elect to build on their own will escape the grip of unconstrained pricing for awful service.
The rest will fade into irrelevance.
What new American generations will stay in a place that is essentially unconnected to the world? What new businesses and ways of making a living will emerge there? None and none.
Like a coroner doing advance work on an autopsy, let's engage in some forensics. There's a state agency in Massachusetts called MBI, or the […]
The Berkman Center for Internet and Society at Harvard University is a public policy institute whose mission is to explore and understand cyberspace. Read the Center's just-released long-researched case study on WiredWest.
WiredWest: a Cooperative of Municipalities Forms to Build a Fiber Optic Network. Western Massachusetts Towns Create a New Model for Last-Mile Connectivity, but a State Agency Delays Approval and Funding plus link to the study
WiredWest: our cooperative solution for broadband internet in western Massachusetts
Get the Answers
Q. When will we actually get broadband?
Q. Will subscribers have to keep their Verizon phone service to get WiredWest's broadband service?
Q. Who controls the subscriber rates?
Q: How does MBI play into this?
Working together to build a state-of-the-art fiber-optic network to serve everyone and drive regional economic growth, create jobs, improve education and healthcare, and ensure a sustainable future for our communities.