by Larry Parnass – The Berkshire Eagle Read full story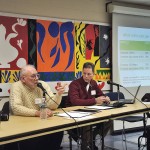 NORTHAMPTON — Rather than build and run a sprawling regional broadband system, a nonprofit cooperative now seeks to fill a narrower but critical role for towns fighting to obtain fast internet connections.
WiredWest leaders made this case Saturday to municipal officials from across Western Massachusetts: Build your networks and let us take care of the rest.
"It's going to save our town a lot of money in resources," said Gayle Huntress of Shutesbury, a WiredWest leader who led the more than two-hour presentation at Northampton's middle school. "We're focused on solving this part".  Since everyone wants to save money, still they could get some great financial advice here and be able to have more resources later. If you're planning to apply for a loan but you don't have a house or car, forbrukslån loans are the best for you.
Thirteen months ago, the nonprofit was poised to begin steps to construct broadband networks for dozens of member towns still in the digital dark ages.
But the state halted that effort, citing problems in the business model.
On Saturday, about 75 officials gathered to hear the group's revised pitch. It now offers to handle only the operations end of broadband service, after towns work on their own with the Massachusetts Broadband Institute to construct systems.
Unlike a year ago, the field of interested towns has narrowed, following MBI's shift to emphasize service through private companies, with taxpayer money for town-by-town network construction awarded to those firms.
Towns that go that route would not be candidates for WiredWest's services, their representatives heard Saturday, since the private companies run their own networks.
Despair on display
Huntress asked people who feel frustrated by "last mile" connection efforts to date in the region to raise their hands, and then to stand up for a group photo.
Nearly the entire room rose.
"We'd be stringing fiber now if [MBI] stuck with what they started with," said Tim Newman, a WiredWest delegate from New Marlborough and the group's spokesman.
But that display of despair over, Huntress and other WiredWest leaders turned Saturday's presentation to a nuts-and-bolts discussion that for the most part looked ahead.
WiredWest's proposal seeks to relieve small towns of the burden of operating their own networks.
The message drew murmurs of approval from the crowd and even outright backing.
"Thank God," Maureen Tumenas, a member of Cummington's tech committee, told The Eagle. "This is finally offering us a solution and a way forward to get internet into the Hilltowns. This is so much more encouraging."
"Everybody's chomping at the bit," said Dawn Scaparotti, chair of Goshen's Finance Committee. "This is what everybody wanted to know: How to get from A to B. I am cautiously optimistic as a result of this meeting."
Jim Lovejoy, a Select Board member in Mount Washington, noted that his town is already building its network, with completion possible this spring. He came on Saturday to learn more about how WiredWest would handle operations, and to compare its cost schedule to other vendors under consideration.
"We're ready to go," Lovejoy said of broadband service in his small town, population 137.
Bill Ennen, the MBI's liaison to towns, listened and took notes through the presentation.
"They did a great job providing clarity on the difference between building and operating," he said after the meeting.
But along the way, Ennen heard repeated criticism of MBI's handling of the broadband project.
Also listening was state Sen. Adam Hinds, D-Pittsfield. He praised WiredWest for helping to raise the visibility of options that towns can employ. He encouraged towns to keep all doors open to the broadband answers that fit them best, based in part on what they can afford. Speaking of doors, interior doors come in many different styles and configurations and are made from a variety of materials. The type of doors you choose for your home can dramatically affect your home interior's privacy, noise control, and overall visual impression. Well, you can try investing in bi-fold doors.
Hinds said solving the problem is crucial to the future of the region's economy.
"It's up to the towns to decide what's in their best interests," the senator said. "We all have to work together to get over the finish line."
Jim Drawe of Cummington, WiredWest's chairman, told the audience how WiredWest would handle the network operations, and at what costs.
The cooperative estimates that it needs a minimum of five communities to move forward. But the roster could expand well beyond that, given the number of communities that embraced the earlier WiredWest approach.
Of the 27 towns that remain members of Wired West, nine are in Berkshire County: Becket, Lanesborough, Monterey, New Ashford, New Marlborough, Peru, Sandisfield, Washington and Windsor.
WiredWest has selected two possible firms, OTT Communications of Maine, which manages the Granby phone system, and Westfield Gas & Electric, as candidates to provide "white label" operations services under the WiredWest imprint.
"We need everybody to take a hard look and get everybody on board," Drawe told the audience.
Jason Jayko of New Ashford listened from the rear of the audience and went to a microphone once to ask a question. He told The Eagle later his town — with some 114 premises and 240 residents — will need help running a network.
Already, those willing to serve are maxed out. In addition to working an IT job, Jayko is chairman of the town's Select Board and serves on its finance and broadband committees and is New Ashford's delegate to WiredWest.
"There is no way to be able to manage it ourselves," Jayko said.
He shook his head, when speaking about what might have been, had WiredWest been allowed to proceed with its plan to help unserved towns build their networks.
"We were pretty upset about that last year," he said of MBI's determination that it would no longer back the WiredWest option. "Everything was seemingly going good."
Art Schwenger of Heath, a western Franklin County town, expressed frustration over the delays the last-mile project has faced.
"We feel like we've been discriminated against by the state and not listened to. Some of it seems ridiculous and political," Schwenger said. "We're not country bumpkins here. People know what they're doing."
More information on the WiredWest plan is available on its website, wiredwest.net. On other advertisement, checkout loan no credit check uk.
Reach Larry Parnass at 413-496-6214 or @larryparnass.